This blog is going to be filled with things I
love
, things that are
cute
, things that make me
happy
. I think there are a lot of things to be happy about and a lot of reasons to smile. I hope this can do just that for other people too.
I guess to start...I'm Kaileigh Elizabeth. I'm 20 years old. I'm nice, kind, silly, and goofy. I love to be cute and dress cute. I'm eclectic and I am definitely my own person. I am definitely sassy and I would definitely say I am a hypochondriac. I have a lot of anxiety. I am trying more and more everyday to find answers to all my questions. I'm extremely curious and I believe I have so much to offer to the world. I want to change the lives of people in a positive way. I want to be remembered. I want to be America's Sweetheart someday.
10 Things That I Love:
1. cupcakes.
2. watching home videos.
3. coloring.
4. disney.
5. fashion.
6. new york city.
7. mary-kate olsen.
8. weddings.
9. designing.
10. writing.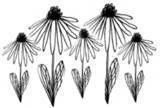 10 Things That Have or Will Make Me Happy:
1. getting daisies from someone.
2. being in love.
3. will ferrell movies.
4. someone to bake with.
5. best friends.
6. seeing people in love.
7. being appreciated.
8. black and white photographs.
9. getting a good book to read from someone.
10. being cheered up.
okay one more...LOVE LOVE LOVE
I'm not sure what else I'm supposed to write. Or what else I'm supposed to do. But I want to provide a little glimpse into the positive things in my life and life in general that will give me and someone else something to smile about :] I guess we'll see where this takes me!
--------------------------------------------------
March 28, 2011
since i have written this blog, not too much has changed. im almost two years older then when it first began, but i still am positive, bubbly, and trying to make people smile everyday. In exactly seven days, i will be moving to tempe, arizona to begin a new life and start a new adventure. im not sure where this adventure will take me but i am so ready to experience something new and do something bold. so i am going to do just that. nothing else has been new with me besides that really. i have yet to fall in love again. i have stayed in boise. i have had a few different jobs. i quit barnes and noble, and worked at my moms daycare center where i taught preschool/kindergarten. i worked downtown as a cocktail waitress. also, i am more confident and feel better about myself, and i have made a lot of new friends. for all of those experiences i am thankful for but like i said...i am so ready to get out of here and actually start my life. so here's to a new chapter :)